Academic Catalog PDF   View in PageTurn
Melissa Meserve, our academic coordinator, is originally from Westbrook, Maine and currently living in Limington, Maine with her husband and three children ages 21, 19, and 14.  Melissa in in her final year of graduate school pursuing a Masters of Science at USM in an Adult and Higher Education Program. Melissa teaches and offers MCCA advisement at the Saco Learning Center and UMA as well as overseeing the SMW grant for our ELL community. Her favorite hobby is playing baritone saxophone in volunteer community wind ensembles, Casco Bay Wind Symphony and Fanfare Concert Band.
David Durkee, our Director,  has worked in adult education for fourteen plus years as both an educator and administrator. He has served as a director of  TRIO programs through Southern Vermont College, and is the current director of OOB/Saco Adult Education. With degrees in English and Secondary Education from the State University of New York, David is a lifelong learner and a strong advocate for the importance of education. David is committed to offering a range of enrichment and basic education courses to community members and enjoys helping empower students through new educational and career pathways.
Bo Hewey has taught from kindergarten through high school and Adult Education. With a Masters in Literacy Education from USM and a MA in Progressive Education from Goddard, he is a lifelong learner who enjoys teaching and learning with his students. Bo currently teaches English for English Language Learners and English Speaking & Pronunciation at the Saco Learning Center.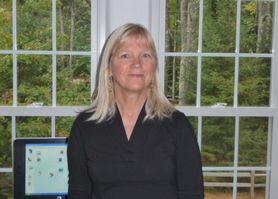 Liis Nigol is our official HiSet Tester for the OOB/Saco Adult Education program. She has worked as a counselor with high school and  college students for over 30 years.
Amanda Lord is our administrative assistant and student service specialist at
the Saco Learning Center. Amanda was born and raised in Maine, attending the University of Maine at Farmington (go Beavers!) and now residing in Biddeford with her family including two kids, ages 9 & 7. Amanda has a passion for helping others and serving her community. She majored in Psychology and has worked in the service industry for many years, most recently in Real Estate in which she still holds an Associate Brokers license. In her free time, Amanda enjoys running, camping, kayaking, dancing and spending time with friends and family.