Spring/Summer 2021
April-Aug
Faith Garnett began teaching card making in 2009. She sells original greeting cards at craft fairs and at Seacoast Crafters in Portsmouth. She does amazing work and really packs every class with information and fun!
Faith's AWESOME DIY Card Kits!
Order by simply registering,  just like you would for a class.
Spring
DIY Card Kit  Ordering closes at noon on 4/26 and your kit should arrive within one week of that date. Click the class link for more info.
Valentines!
Fancy Cuts, Folds & Interactive Cards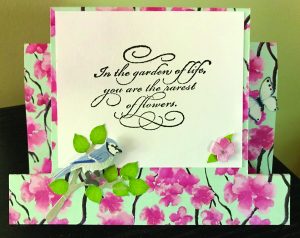 One Sheet Wonders

DIY Card Kits for all occasions!
FLOWERS & HOLIDAYS   

HALLOWEEN!
GNOMES!
Exploding Memory Box