Fall 2023    
Russel Whitten is a  local
artist/teacher, studied at The Art Students League of New York, Heartwood College of Art, and is a member of The Ogunquit Art Association/ Barn Gallery. Students love his easy, supportive style.
Try watercolor with Russel & find out why he is such a popular teacher!
"Russel has a good way of answering questions concisely and to point. Lots of good tips too!" – W. Oleszczuk

"…an excellent teacher & watercolorist. He is thoughtful, knowledgeable and supportive!"   – S. Cox
Watercolor with Russel Whitten – the best!
Russel's Outdoor Adventures in Watercolor – submitted by Paula Atkinson.

Just a few of Russel's watercolors

Mulligan's Pub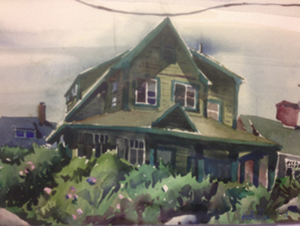 Coastal Home
Culvert
Fort Williams